The Love Dare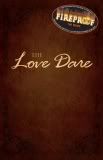 T
his month on
Reformed SHEology
our film of the month has been the much anticipated
Fireproof
. Yet because I live in the UK I have not been able to view this movie yet. For those of you who have been blessed enough to see the movie you will be very familiar with the featured book
The Love Dare.
In the movie the couple "dares to rescue their choking marriage from the flames of divorce and temptation using The Love Dare book as a guide."
When my husband came home from America, he brought back for me the
ESV study Bible
(yeay!) and to my delight a copy of
The Love Dare
. It was like Christmas day when he came home! As I set aside my new Bible and opened up my copy of the Love Dare I was met with the following words of warning:
Receive this as a warning. This forty day journey cannot be taken lightly. It is a challenging and often difficult process, but an incredibly fulfilling one. To take this dare requires a resolute mind and a steadfast determination.

It is not meant to be sampled or briefly tested, and those who quit early will forfeit the greatest benefits. If you will commit to a day at a time for forty days, the results could change your life and your marriage.

Consider it a dare, from others who have done it before you.
I knew then what I held in my hands wasn't just another book to add to my ever growing library. If I was to seriously contemplate taking up the dare I would have to heed those words of warning and not rush headlong into it with an attitude of complacency. Yet this isn't such new territory for me. In fact it wasn't so long ago that I commited to another such book only to come under the most testing of times as I progressed through it. But glory to God that from such testing not only was I being conformed to the image of Christ but my marriage was also being refined. Even from the day of our wedding our marriage has endured many tough trials, often so big that I am sure if I wasn't saved my marriage would have failed by now. But what we have as husband and wife is so very precious that the only way to get what we have now is to go through such fiery trials together with our eyes firmly fixed on the Lord.
After experiencing such a trial from committing to following and applying a biblical study that would be an instrument of change not only for myself but for my marriage also, I take seriously the warning and words of wisdom that precede
The Love Dare
. It is with all this in mind that I take the love dare! As I progress through the 40 days I will share some of my experiences in the hope of encouraging others.
Marriage is only the beginning of the journey.
In closing this post I want to share one last point that has been touched upon on
Reformed SHEology
this month. Marriage is often portrayed in the movies, fairy tales and novels as the end of any romantic story. They focus on the build up to the moment everyone is waiting for...the proposal. Much like Ross and Rachel in the series
Friends
you are often made to think "Will they? Won't they?" In these build ups we see the couples many obstacles and trials, laughter and tears until we come to the end...marriage. But the reality is marriage is the beginning and not the end of the love story! All that has gone before is only a taste of what is to come. In many films/stories when the proposal comes, it releases the sense of a huge sigh of relief; "Ah, they made it!" But this is not so in reality. Marriage is only the beginning of the journey. That sigh of relief should only be made if we have successfully
run the race of marriage.
So the real love story begins every morning of our married lives.
The Love Dare
can only be a part of that story, a marker guiding us through God's Word on our way.
I Take the dare.
Watch this space!